Defination of Phimosis
The foreskin covers the glans of penis partially or completely, causing pain & complete or partial obstruction to the flow of urine that is phimosis.
Symptoms of Phimosis
DOES YOUR CHILD ?
Get Irritate.
Puts recurrently hand at panis.
Difficulty while urination.
Urine with high pressure.
sleep on Stomach.
Not eating properly.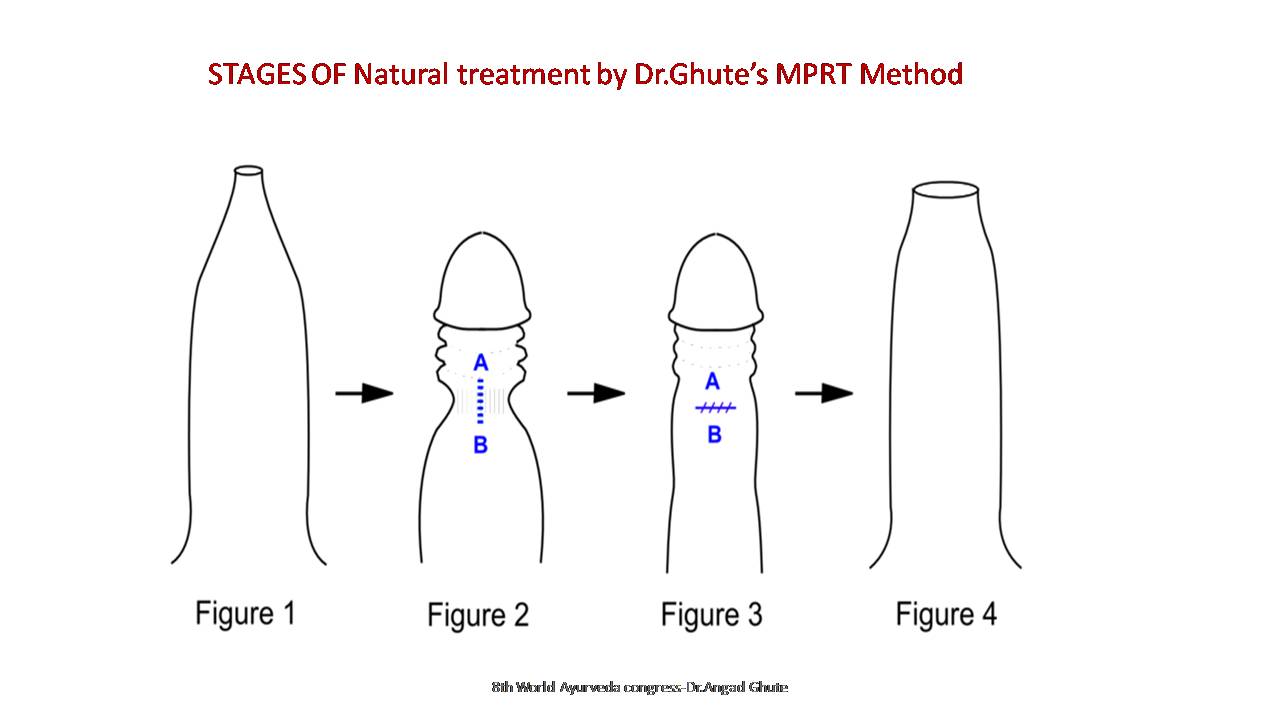 Treatment Procedure
Vrana sotha (inflammatory stage)
(vidradhi) localized collection of pus i.e abscess
(vrana) Abcess improperly treated causes ulcer
Importance of Foreskin
It helps to cover glans penis.
It protects the glans penis from friction & infection.
It helps to protect natural lubricant of glans penis from getting dry and in turn protects from lacerations also.
Foreskin gives more pleasure during intercourse.
It expands to accommodate erected penis.
Ayurveda treatment of Phimosis by Dr.Ghute's MPRT Method
आदौ विमलापनं कुर्यात..........!
पंचमं शोधनं कुर्यात,षष्ठम् रोपण मिष्यते !
एतेक्रमा व्रणस्योक्त: सप्तमं वैकृतापहम् !!

सु.सु.२१/३७

Pressing /squeezing

(विम्लापन)

: After application of our Herbal medicated formulation(Which is preapered by 27 types of herbs) we wait for 20 Minutes for the absorption of medicine and then we squeez the foreskin.

Swelling which are fixed and less painful are subjected to snehana and swedana and then pressed using by hands or by thumbs.



Vimlaplan procedure not only includes pressing/squeezing,but also includes other measures like pralepa,pariseka,abhyanga,etc.


This makes the tridosha to liquify and thus the swelling gets reduced and disappears.


Cleaning

(शोधनम् ):

After Pressing /Squeezing we retract gently foreskin of glans of penis and glans comes out easily with the effect of medicated formulation.Then we clean all the smegma which is collected on glans penis. And also remove the fibrus tissues.


Healing

(रोपनम्):

At this stage glans of penis becomes very redish and very sensitive so we apply an ayurvedic formulation to heal the superfecial redish layer of glans of penis.


Repairing scar

(वैकृतापहम् ):

After procedure of Non Surgical Treatment Of PHIMOSIS by Dr.Ghute's MPRT Method we ask patient for daily dressing for next 7 days to repair the redness of glans of penis.
Comparision of circumcision & Dr.Ghute's MPRT Method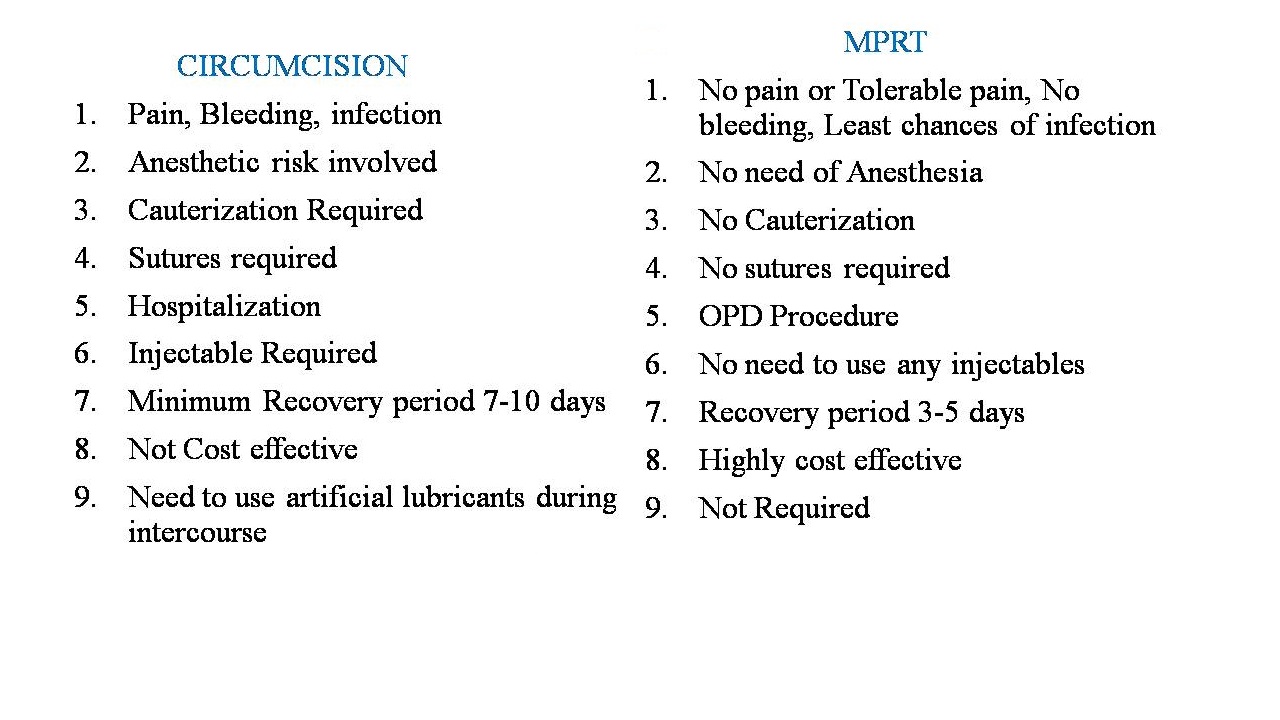 Results
Conclusion
This technique is cost effective & Safe.
It's a Non surgical, easy to perform, manual OPD level technique.
No risk & complications are reported till date.
All Content used in siddha thaila are herbal with no side effects.
This technique is complete replacement to circumcision operation.
Phimosis Doctor in Thane, Mumbai & Navi Mumbai
Phimosis is a condition in which the patient is unable to pull the foreskin of his penis backwards either completely or partially. This also leads to obstruction in the free flow of urine, causing discomfort and pain. In adults this may lead to pain while intercourse. This condition is very common amongst infants.
People believe that the only treatment for this problem is via circumcision.
At Aanandi Ayurved & Phimosis Center we value our countries heritage in the medical field, all our medications are completely ayurvedic. Dr. Ghute is a specialised ayurvedic and Phimosis Doctor with a decade of experience. Our team conducts a large number or nonsurgical ways of dealing with the problem of Phimosis.
Dr. Ghute is specialised in treating phimosis in children. He is the pioneer of natural treatment of phimosis and the MPRT technique since 2006. He has been successful Phimosis Doctor in every case and each procedure is a quick, easy and cost effective. He is one of the few Phimosis doctors to treat phimosis without any surgery.
The medication used in the procedure are completely herbal and have no side effects. We have a hundred percent success rate. Manual OPD level techniques are performed which eliminates the option of a surgery. The recovery period is around 3 to 5 days as compared to surgery or circumcision which has a recovery period of about 10 days. This is a painless procedure and does not require anaesthesia. No hospitalisation is needed. Our procedures are cost effective. No for of injections are used as it is completely natural.
Natural Method: It is a completely ayurvedic procedure, meaning having no side effects. Ayurvedic procedures have commonly been used since ancient times and have always been preferred over alopathic medicines and procedures which have sometimes grave side effects.
No Surgery: Considering the delicacy required with dealing with genitalia, it is always better to avoid operative procedures which may lead to infections.
Tidiness: Clean and quarantined procedures.
Professional Staff : With Dr. Ghate leading our team the staff is well trained and qualified for the job.
Affordable Prices : We offer all the correction and MPRT procedures at very minimal costs.
Phimosis is mainly caused by inflammation of the foreskin or skin of the head of the penis called balanitis. It can result in foul odour coming from groin region.
A person having phimosis might experience soreness, itchiness around the penis and also the redness and swelling of the penis resulting in difficulty while urination.
It can also occur when the foreskin is retracted forcibly which can cause scarring and can be harmful to the skin.
Phimosis can be the result of infections on the foreskin or in the urinary tract which can result in severe to mild pain while urinating. This could also be caused by sexually transmitted infections.
Uncontrolled diabetes may also give rise to this condition because of the presence of a high amount of glucose in the urine, which can lead to infection on the foreskin of the penis.
Wash your penis with water and soap gently.
Use non-perfume or mild soap to avoid irritation near the groin region.
Do not apply talc or deodorants on your penis.
Gentle pull back your foreskin and wash it regularly with soap and water.
Wash with warm water and mild soap (for circumcised men).
A paste made out of 27 types of herbs which is applied on the penis and then it slowly pressed and squeezed. This procedure is completely painless and in rare case the patients may feel mild pain which they need not worry about. The paste applied will result in the swelling to reduce and completely disappear.
The glands on the penis is then cleaned and it is easily collected due to the herbal medications. We also remove the fibrous tissue.
When the procedure is complete the penis is generally is sensitive and turns red so we apply another paste to relief it.
And finally, if any form of scares has to happen, it would heal within 7 days of the procedure. We require our patients for daily dressing for the next seven days.

With more than 500 qualified working staffs we are one of the most successful running medical house with hundred percent result.
We are also specialised in case where phimosis seen in adult induvial.
We respect our patient's privacy and do not share our patients records with anyone else. We produce our patients with complete attention until the procedure is complete.
How serious is phimosis?
Mostly, phimosis is not a serious problem seldom requires treatment, however, the condition does not improve on its own. As mentioned, paraphimosis is sometimes a medical emergency , and the penis may become permanently damaged if you do not seek immediate medical attention..
At Dr. Ghute Aanandi Ayurved and Phimosis centre we believe in the natural treatment of this condition using Ayurveda. Dr. Ghute has successfully used this technique since 2006 treating hundreds of patients without using any surgical methods and is hence the prominent and renowned Phimosis Doctor for all.
Diagnosis - The first process we start with the treatment is evaluating the seriousness and extent of the tightness in the foreskin. Our treatment will differ with age of the patient. We also look for any underlying medical problem that the patient have, which may effect with the treatment.
Treatment - After full diagnosis of the situation we decide on what oils and creams to use depending on the age and severity of Phimosis. We use ayurvedic and herbal oils, which helps loosening the skin. The process has no side effects unlike other allopathic treatments.
Observation - The patient is observed on regular basis to check on his condition. We may recommend a operative procedure in case the herbal method is ineffective.